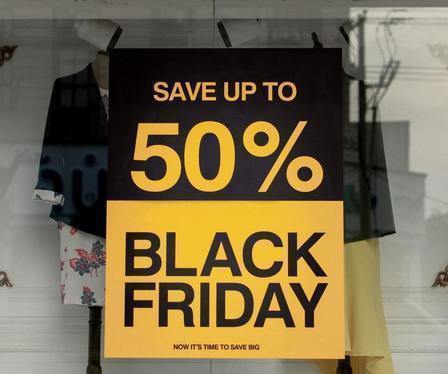 Since 1952, Black Friday promotions have been 'a thing' in America. The day after Thanksgiving, which is usually the last Friday in November, traditionally marks the first day of the holiday shopping season. To encourage customers to start shopping and spending up large, retailers offer discounts to get customers into their stores. As for how it got its name, some say that police and bus drivers called it Black Friday because of the sheer volume of traffic that would block the streets as people went shopping. Others say it is because this is this day that retailers show a profit for the year, being 'in the black' for the first time.
On Black Friday, retailers will often advertise loss leaders to get customers into their stores. These are discounted products which they are selling for no or low profit and in limited quantities. Word spreads amongst customers on the huge bargains to be had and this buzz grows the number of people wanting to purchase them - hence the large crowds lining up to enter the stores, the traffic jams and no carparks to be found.
But what about Black Friday promotions here in New Zealand? They have slowly appeared over the past few years, along with other American traditions. Should NZ retailers acknowledge this day and if yes, what promotions should they offer?
Black Friday Promotion Ideas for NZ Retailers
Choosing not to participate in Black Friday is perfectly acceptable and many NZ retailers are particularly vocal in showing they do not support it. What seems to have happened is that the larger retailers (possibly because they follow American trends or are encouraged to do so) do offer Black Friday specials. They have the money to advertise this, which then leads to the general public developing an awareness of this promotion. Consequently, these customers then expect all retailers to offer discounts at this time, which is just isn't what is currently happening in New Zealand.
If you decide that your business will participate in a Black Friday promotion, here are some ideas to consider trying:
Create a Black Friday landing page to direct your customers to
Offer a different special deal every hour
Create a gift guide or gift collection
Offer a mystery bundle
Set up referral rewards and/or loyalty points
Offer special deals such as buy Y and get X% off
Give free shipping
Use Black Friday hashtags to help people find your online store
Give a free gift with purchase
Cross sell and upsell your products
Preview the products that will be discounted on your landing page in the week up to it
Hide a discount code on your website
Launch new products on this day
Tell your followers via social media and email
Add a countdown timer to your website saying when the sale starts
Donate a % of sales to a nominated charity or cause
One thing that to remember is that you need to get the word out there that you are offering Black Friday promotions, and the best way of doing this is to have a website that is live all year round. Website World offer a better eCommerce solution and a free 30 day trial so you can experience the difference for yourself. Head over and start your free trial today.
Posted: Friday 9 October 2020