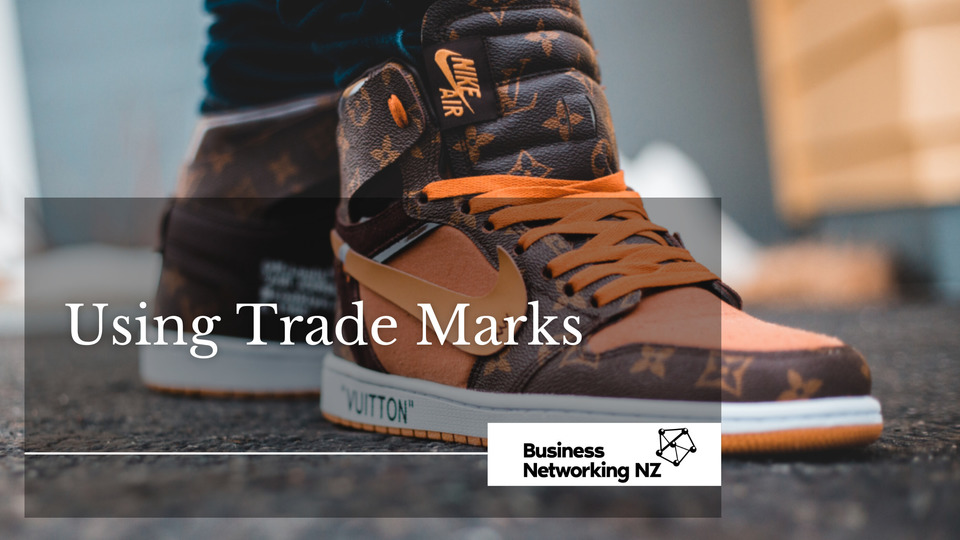 Should you obtain a Trade Mark for your business? What are the benefits of doing so? How do you get a Trade Mark? What should you do once you have one, and how do you keep others from using it? We've put together the answers to these and more in our guide about Trade Marks in NZ.
A trade mark is a word, logo, shape, colour, sound or smell that identifies a unique product or service. A form of intellectual property, a trade mark is an asset that helps customers recognise your brand and differentiate it from your competitors. Trade marks can be registered here in New Zealand via IPONZ, as well as through overseas intellectual property organisations.
Benefits of Having a Registered Trade Mark
Having a trade mark can provide multiple benefits for a business, including:
creation of an asset - a registered trade mark is an intangible asset that can be sold, franchised or assigned, and adds value to a business overtime as the mark becomes more widely known and recognised
differentiation of your products or services - it is easier for your customers to identify your products or services over those of competitors. You also have confidence that you are the only brand using the mark
exclusive rights and protection - only the owner of the registered trade mark has the ability to use the trade mark within NZ, and this can be legally enforced
building trust and goodwill - customers get to know and associate your mark with your brand, increasing recognition, trust and loyalty
You can use the symbol TM with your trade mark to show others that you believe you have ownership rights, and the ® symbol can be used once the trade mark is registered.
How to Get a Trade Mark in NZ
It is a significant process to obtain a trade mark in New Zealand, though can certainly be done by business owners themselves. The steps involved are:
Search for any existing trade marks - as a mark must be unique to be registered, you will need to do some searching to see if it or one similar already exists. If a mark is identical to another, it may still be able to be registered if it refers to completely different goods or services. The NZ trade marks register is available for searching using a word, logo or image. Other places to search include ONECheck, social media platforms, a search engine search (such as Google) and the international trade mark register.
Seek search and preliminary advice - if you are taking the DIY route, it is a smart idea to have an S&PA report done by IPONZ. This will provide you with an assessment as to whether your mark is likely to comply with the act and be registrable. You then have the opportunity to edit or continue with an application for your mark. There is a fee for an S&PA report, but the actual mark application fee can be discounted to reflect this.
Decide upon trade mark type - there are different types of marks you can apply for. The most common is the word mark, followed by an image and a combined (word and image) trade mark.
Decide upon the owner - the owner of a mark could be an individual, a partnership, a company, two partners, two or more company owners or a legal entity. Ownership can be transferred at a later date if necessary, such as if the mark is
Identify the specification of goods and services - this is something that can take away! It involves you listing all of the goods and services you genuinely intend using the mark for. There are over 60,000 pre-approved to select from, or you can enter your own custom terms. Within your specification, you need to also include the class or classes to which the listed goods and services fall under, of which there are 45 classes.
Submit your application - after paying the required fees, you submit your trade mark application. Once it has been examined, you'll see if it failed to comply (in which case you can make changes and reapply) or if it has been accepted. If it is accepted, there is a minimum six month wait until it can be registered. This is because it will first be published in the Office Journal to allow for any objections from the public to be made.
Maintaining, Renewing & Enforcing Your Trade Mark
Once registered, your mark is 'live' for 10 years. At the end of 10 years, you pay a renewal fee to extend the registration for another 10 years. While no other interaction is required with IPONZ during this time (unless requested), you will still need to actively monitor your trade mark against any infringements that may occur. It remains your responsibility to identify any unauthorised use and enforce your intellectual property rights accordingly. It is highly recommended that you engage the services of an IP attorney to assist you with this.
So, where to next? It's over to the IPONZ website to create an account, and begin your trade mark application process. Best of luck!