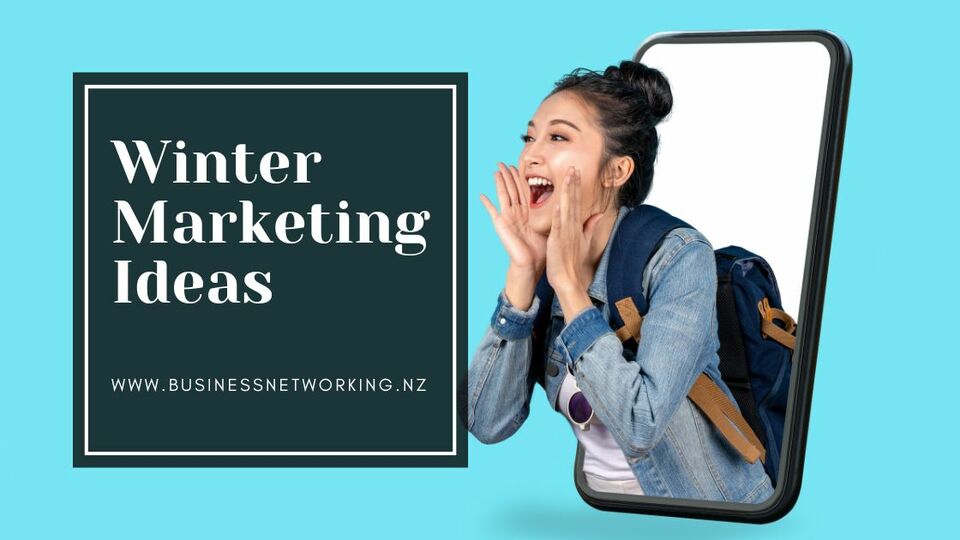 It's cold, wet and windy. Motivation levels are down and it's months until Christmas. As a retailer, what can you do to increase sales during winter?
25 Winter Marketing Ideas to Boost Online Sales
Unlike our Northern Hemisphere friends, NZ retailers don't have the advantage of being able to use the hype surround Christmas and New Year to sell more online. So we put our thinking hats on and identified 25 winter marketing ideas we could use instead:
Limited editions - sell limited edition and exclusive products within a specific date range. Ideal if you sell food products, as you could create a frost themed cupcake for June and a snow themed donut for July.
Hashtags - either create and use your own or jump on board with existing hashtags in your social media posts. Hashtags not only help group similar topic posts together, but are also searched for by those who follow them.
Winter images - get out your phone and start snapping photos of what the weather is like around you. Ask your audience to do the same and share them with you.
Winter articles - write up some winter themed articles and add them to your website. Share links to these via social media. Remember to relate the article topic to your industry and audience.
Seasonal sales - it's raining, so offer a discount on your umbrellas. A seasonal sale should promote products that can be used during that time period.
Sports and events - rugby, football, hockey, netball; we love our winter sports. Share photos of you supporting your local teams, watching the All Blacks or dressed up ready to run onto the field for a game.
Winter survival guide - funny or serious, make a winter survival guide for your followers as an article or infographic.
Winter product guide - make sure your customers know which of your products are best suited for winter and the benefits they will receive by using them.
Brand update - could you change the way your brand is portrayed graphically during winter? For instance, putting a scarf on your logo or a winter scene on your website banner?
Cooler colours - if your brand has multiple colour options available, try using the cooler winter themed colours in your graphics.
Competitions - do you have a product that would be ideal to promote to your audience during winter and which you are happy to offer up as a prize? A competition themed around 'warming up' or enjoying winter themed activities is always popular. Use this as an opportunity to collect email addresses for your newsletter for further marketing opportunities too.
Newsletters - sending winter themed bulk newsletters to all or a targeted section of your subscribers is a good way to get them engaged. Include winter themed interests, such as recipes, product tips and articles.
Help a cause - while there are always worthy or charitable causes to support, you could focus and promote one that specifically needs assistance during winter. For instance, donating a percentage of sales to a cause that provides blankets to children in need.
Promote online shopping - visiting the shops during winter means going outside in less than desirable weather. Promote to your audience the benefits of shopping online, including shopping 24/7 and having their order delivered to them without getting cold or wet!
Winter nostalgia - many people have great memories and nostalgia towards things they have seen or done during the cooler months when they were younger. Use this as a way to evoke positive feelings towards the season and your associated products.
Shopping affiliate program - set up an affiliate program for your customers so that by sharing a code with others, the affiliate receives a discount or credit when the code is used by others through your website.
Cross selling - deliberately promote products which compliment each other through both social media and on your website. A pair of gloves would work well with a scarf, or a novel with a snuggly knee rug.
Free gift with purchase - a winter themed free gift with the purchase of a specific product or total order amount can be a low cost way of increasing sales. For example, a tea sample pack when a customer purchases a new teapot, or a chocolate bar when ordering a book.
Winter slogans - create some winter themed slogans you can use in your social media promotions which will be remembered by your audience and easily associated with your business.
Work with other businesses - use the power in numbers and work with other businesses to help promote each other. This could include sharing details about other businesses in your newsletters and on social media, links from your website to theirs and printed flyers with your orders.
Free shipping - an oldie but a goodie. Free shipping when a certain order total is met or a code upon checkout is entered is an easy winter marketing idea.
Piggyback onto other in demand businesses - this works better for stores with physical shops, in that you encourage customers to buy something from you on their way home from the petrol station, supermarket or work.
Buy one get one free/half price - also a common but successful promotion, it can easily be themed for the cooler weather with season specific products.
Weather related offers - if it rains 10 days in a row, give a 10% discount or similar is an example of a weather related offer.
Offer themed events or lessons - host online or in person events where you demonstrate how to use one of your products in a winter themed activity. Or teach customers a winter themed task and collect their email addresses for your email subscription list.
Posted: Friday 24 March 2023