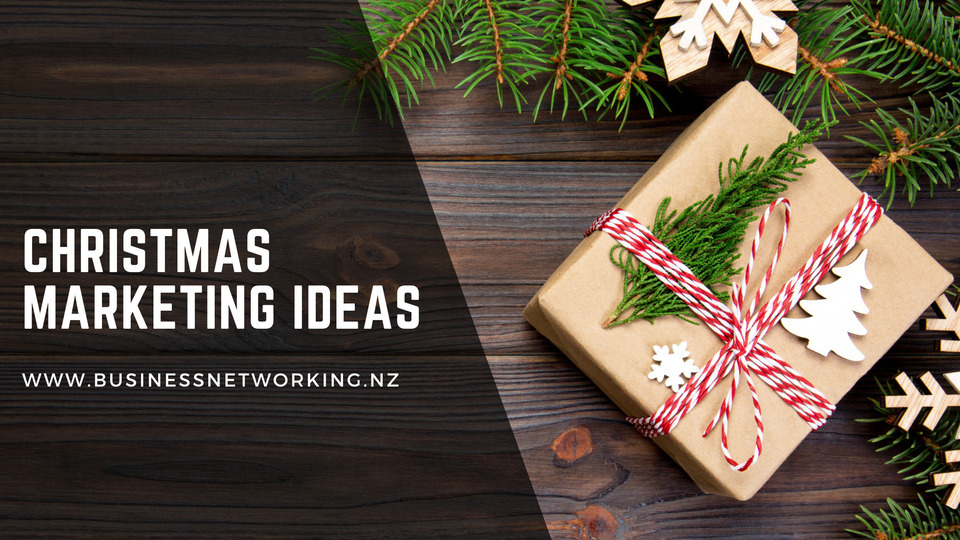 In the lead up to Christmas, things can get slightly crazy! Having your Christmas marketing plans sorted helps to reduce the overwhelm while ensuring that customers know all about your products - and buy them! One of the major problems retailers face is the volume of information customers receive at this time of the year, through email campaigns, social media, print media and paid advertisements.
Rising above this and getting noticed is really hard work, so we've put together a collection of 25 creative Christmas marketing ideas for you to consider using during your marketing campaigns in the lead up to the holidays.
25 Creative Christmas Marketing Ideas
Promoting your products in the lead up to Christmas requires you to pitch your campaigns at a different frequency to every other business to get noticed. You also need to have planned how you will push these messages and when you will start doing so. Therefore you need to firstly identify what your Christmas marketing goals are, and develop a plan to achieve them. We're hoping that these 25 Christmas marketing ideas will give you somewhere to start.
Customise your packaging to the season - whether you create specific holiday themed packaging for one or all of your products, or attach themed stickers to them, customised packaging is attractive, eye catching and can entice customers to purchase the product now, rather than the same product in regular packaging.
Make stocking fillings easily visible - stocking fillers are often last minute and impulse purchases, so placing them near cash registers in a store, or as product recommendations upon checkout gets them noticed and sold.
Update your website and social media graphics - help get your customers in the mood by using holiday themed imagery on your website banner, or in social media posts.
Offer free shipping - free shipping is always seen as a huge drawcard for customers, and could be the deciding factor as to whether they purchase from your business or that of your competitor.
Launch a Christmas product - create a new product that is available during the holiday period only. This ensures it has scarcity and an ending, both of which can encourage customers to make a purchase quickly.
Host a Christmas countdown - on the first day of Christmas...having a countdown helps spread some festive cheer and gives you the opportunity to remind customers that time to buy their gifts is running out. You might want to have a special theme for each day and encourage people to guess what it will be.
Share holiday recipes - food is always a winner, so share your favourite seasonal recipes and ask your audience to do the same!
Add a gift price filter - group similar priced products together and either add to seperate categories or add a filter for customers to view them. This is great for when customers have a specific budget for a gift and want to save time by viewing only products which meet that budget.
Create a gift guide - either in print or online, a gift guide helps make suggestions on what customers could give as presents, as well as let you make suggestions of products you want to sell more of. You can be quite specific such as gifts for Mum, gifts for under 5's etc. Make it easy for customers to find the perfect gift and they're likely to show their appreciation by supporting your business.
Bundle products together - why sell one when you can sell two or more! A product bundle gives customers the incentive to purchase more than one product because the bundle gives them a discount. They can then give the whole bundle as one gift, or split it up.
Run a holiday themed giveaway - giveaways may attract the 'compers' but they also attract the customers. Offer a themed giveaway to grow your online visibility and collect email addresses for future marketing efforts.
Use Christmas landing pages - landing pages are created to promote a specific action, which could include selling a specific product. Read this article to learn how to create a landing page and optimise it for maximum success. Then simply tweak it for next year!
Partner with a local charity - offer to donate a certain value or percentage of sales to a local charity and promote this to your customers. Be sure to choose a charity which resonates with your target audience.
Share Christmas themed photos, memes, topics and videos on social media - social media is full of people wanting to be entertained and distracted during the holiday period. Make it easy for them and do just that! You can share photos of staff dressed up for the holidays, your shop's decorations and ask customers to share theirs too.
Send a Christmas email campaign - you've got your list of email subscribers, so send them an email wishing them the best of the season, sharing recipes or tips, a special subscriber discount...
Update your product descriptions - even adding a paragraph about how this product would make an excellent gift for Nana, or suggesting that it will be loved by the benefits it provides over the holiday season is worth doing. It's not about writing an entirely new description, but rather about adding some temporary content.
Create holiday themed website articles - encourage website visits by writing helpful articles for your website. How to survive Christmas with your in-laws, what to buy the dad who has everything and best Christmas pudding recipes are just some of the topics you could use.
Christmasfy your logo - add a Santa hat or some bells to your logo over the holiday period. A graphic designer can do this for you.
Offer Christmas discounts - whether you use this as a way of growing your email list or simply as an open promotion, a discount at your store can get people in the door, or on the website.
Create a digital catalogue - similar to a gift guide, a digital catalogue helps customers see what is available to purchase in a user friendly way.
Dear Santa letters promotion - why not ask your audience to write a letter to Santa, with the opportunity to win what is on their Santa list.
Christmas themed product names - rename your products for the season. Santa's Toasty Marshmallows, Ho ho ho horse toys... Like with a themed product description, you are not changing the product name or URL, just adding something temporarily to the description.
Set cut off dates - many customers purchase gifts to send overseas. Be sure to share what the international post deadlines are. If you are selling food, share what the last day for orders is. Check with your courier company for cut off delivery dates too.
Promote gift cards - gift cards make choosing Christmas presents so much easier. Promote these as the ideal Christmas gift, and if you can, sell them digitally through your website.
Offer extra value - whether it is buy one get one free, or including a Christmas cookie or chocolate in with their order, customers love receiving extra value or free things!!
We've got heaps of other great ways to support your business this holiday season. Take a read of our articles Is Your Business Ready for Christmas? 30 Brilliant Christmas Quotes for Social Media and Social Media Christmas Marketing Ideas too!
Posted: Thursday 8 September 2022